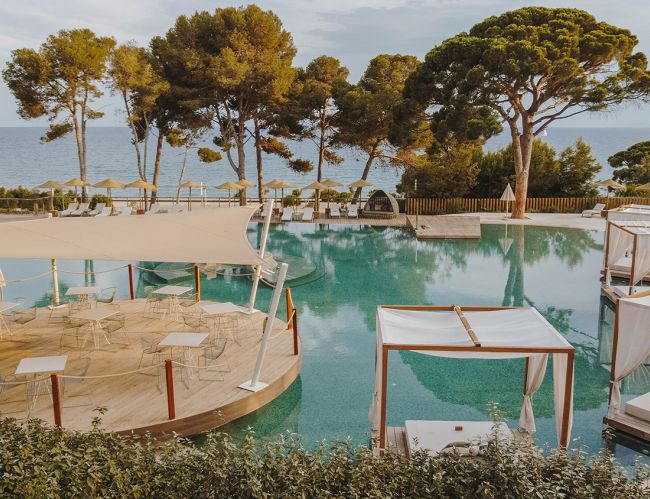 A beach club with views across the Mediterranean Sea
Summer is just around the corner; the season that sun, beach and pool lovers spend all year counting down the days for. Month after month of depressing grey skies, the longer days and warmer temperatures make you want to spend more time outdoors. Summer is the season of relaxing holidays, long afternoons on terraces and quality time by the sea. A place where you can enjoy a much-needed change of scenery, disconnect from your day-to-day routine and enjoy summer with each and every one of your senses is therefore in high demand. Looking for the perfect place for an enriching summer holiday or a relaxing getaway?
Discover Spain's beautiful beaches this summer! Come and experience the magic of the Costa Dorada, where you'll be able to visit a number of beautiful beaches and postcard-perfect coves as well as
Europe's Leading Beach Club
It isn't just us who thinks so! Our beach club won first prize in the most recent edition of the World Travel Awards, in which it was pitted against the finest beach clubs in the rest of Spain and all of Europe. That is why INFINITUM Beach Club is referred to as "Europe's Leading Beach Club". Enjoy a magical summer at our beach club on the Costa Dorada!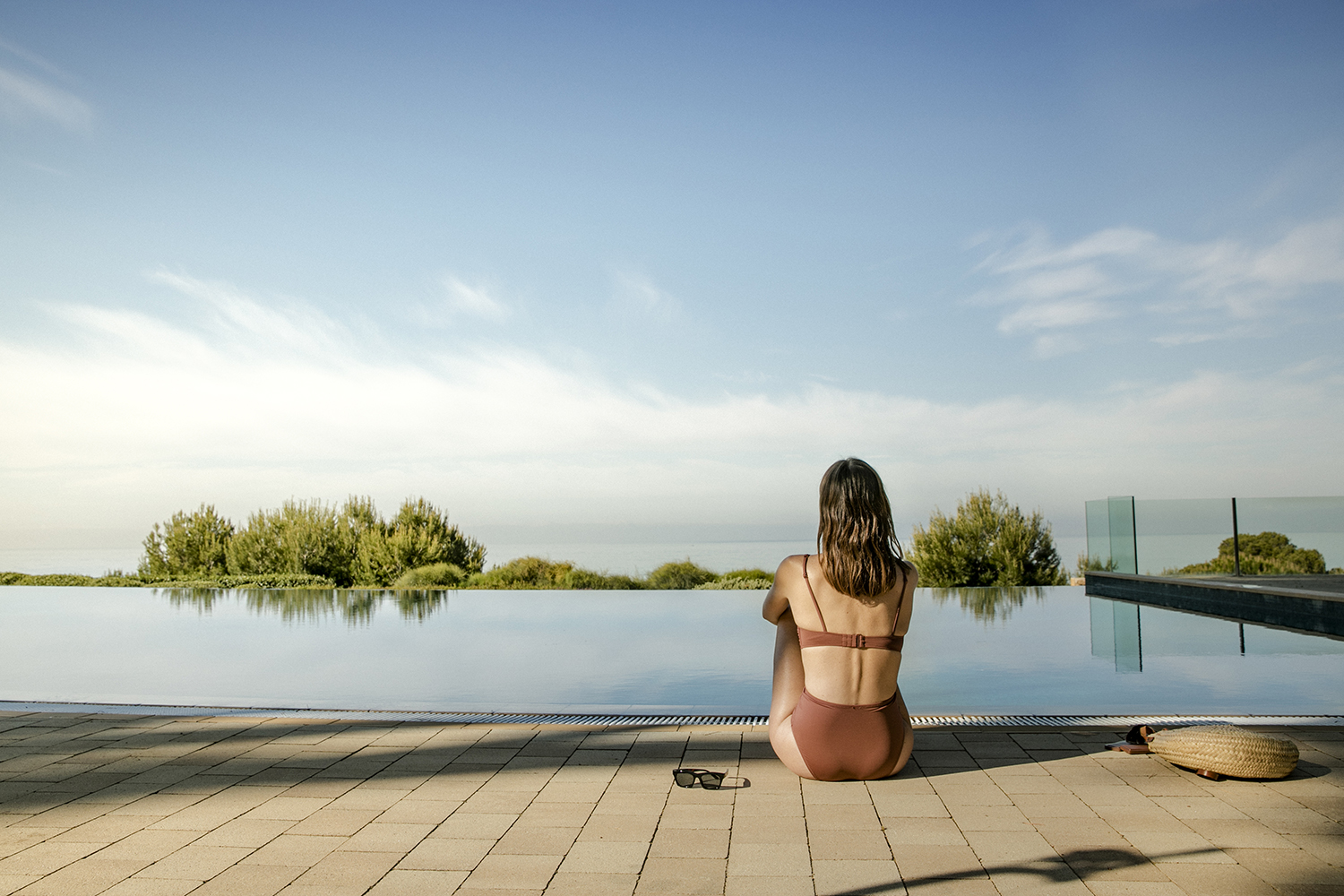 What is a beach club?
The term 'beach club' is used to describe an exclusive venue that is located a mere stone's throw from the shore, offering crystal clear swimming pools, a bar service, high-quality catering options and a wide range of recreational facilities where you can enjoy a special moment of total disconnection and relaxation. They are exclusive clubs that seek to ensure maximum comfort and wellbeing. From their chill-out areas punctuated with parasols and sun loungers to their personalised cocktail and catering service, beach clubs are sure to be one of the highlights of your holiday.
For those looking for a more relaxed, sophisticated and exclusive setting on the Costa Dorada, INFINITUM has its own beach club which is perfect for those long summer days. It offers a wide range of amenities, entertainment activities and services that guarantee our guests limitless enjoyment of the sun, the sea and the beach. We also have a set of security measures which allow for exclusive access, designed for those seeking privacy and tranquillity during their summer holidays.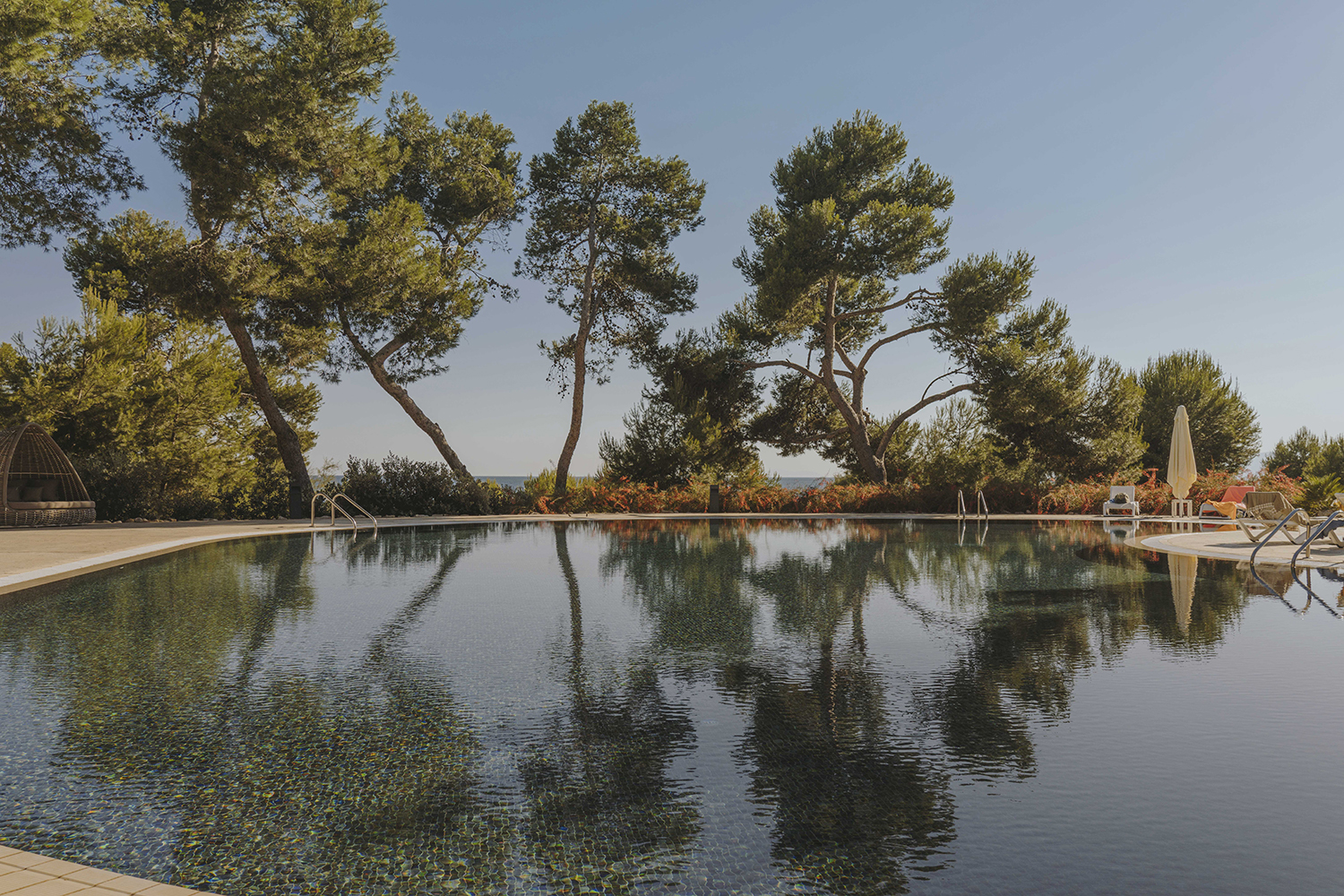 Sea view pools and terraces on the Costa Dorada
Exclusive beach clubs such as that at INFINITUM
can be the highlight of your summer. Imagine a club that offers direct access to one of the best beaches on the Costa Dorada as well as a range of wonderful swimming pools of varying shapes and sizes - all of which boast wonderful views across the Mediterranean Sea. It also has various zones fitted out with comfortable sunbeds and sun loungers, allowing guests to experience total relaxation. To make the most of the day and round-off the experience, it also has multiple restaurants serving delicious dishes.
Want to discover it for yourself? Below is a breakdown of all of our pools:
Signe. This adults-only zone features a huge swimming pool surrounded by sunbeds, cabins and trees. There is also a sunbed cocktail service. The two-person cabin service, meanwhile, which comes with a bottle of cava, fresh fruit and aperitifs, ensures an extra touch of exclusivity.
Pura. This space, which is conceived to ensure total relaxation of body and mind, has a huge swimming pool of turquoise waters surrounded by Bali beds.
Infinity pools. Overflow pools are an eye-catcher in their own right. When you add the Mediterranean Sea as a backdrop, the effect is even more striking.
Pool loungers. Infinitum also has a pool with built-in pool loungers, allowing you to lie down in the refreshing water and cool off under the shade cast by the pine trees.
Family area. Our beach club is also a good option if you're looking for family-friendly activities. Progressively-deepening pools are perfect for your little ones who are looking to make a splash this summer.
INFINITUM Beach Club is also home to three
restaurants serving signature cuisine
:
Flamma Beach Foodhouse. This exclusive sea view restaurant is one of the most spectacular places anywhere in the resort. Its diverse menu includes a wide range of typical local delicacies, ranging from fish, shellfish and paella to grilled meats and many other dishes…
Pura. This is the restaurant of the zone of the same name. Its tables are located on a platform at the edge of the pool. The setting is simply idyllic. Diners can sample a wide range of light and healthy dishes, such as poke bowls, focaccia, dips and salads.
Gusto. The Gusto restaurant, located next to the infinity pools, also has a wonderful terrace with gorgeous sea views. It is the perfect place to have an aperitif or enjoy a unique dish.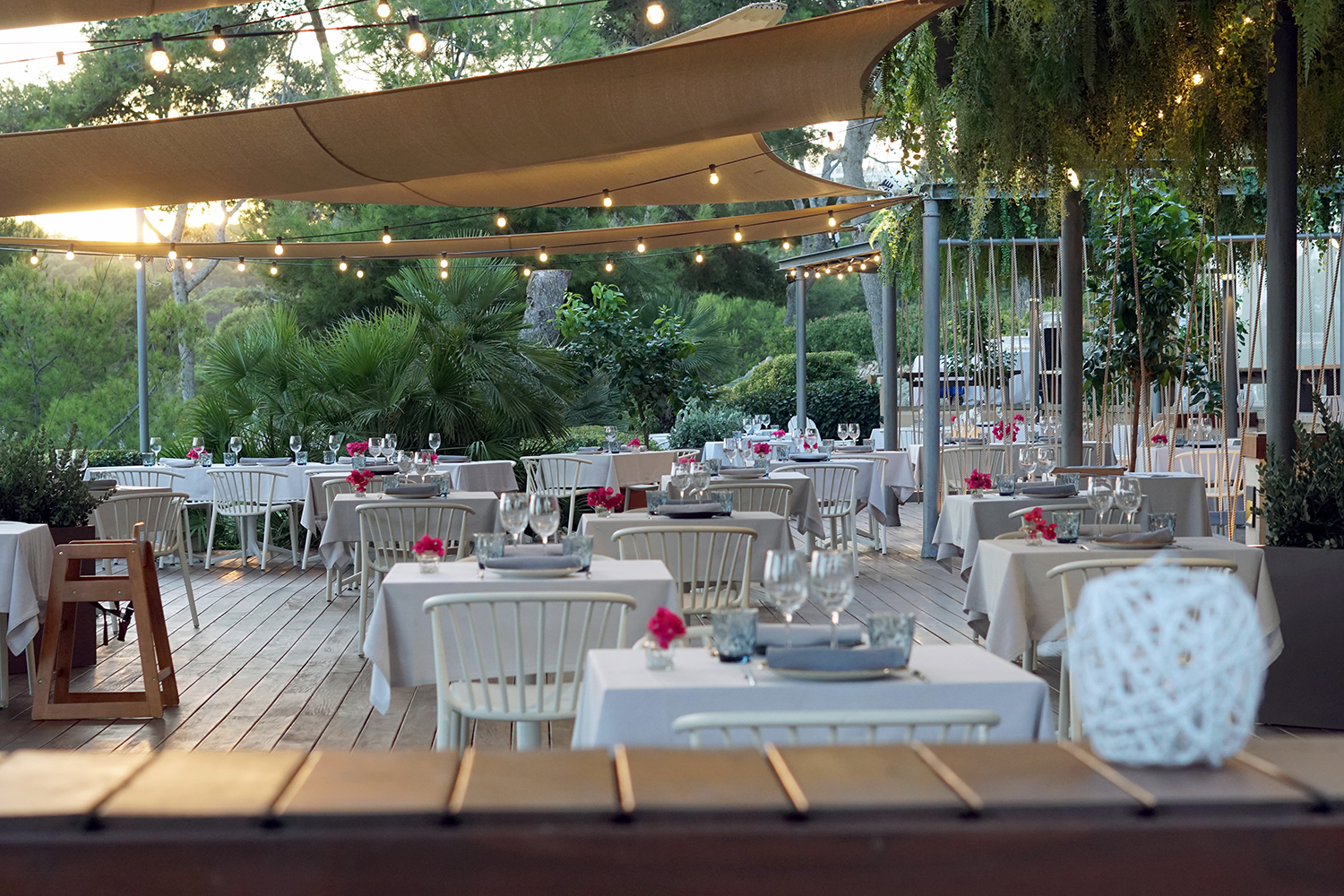 In addition to all of these daytime services and facilities, Infinitum also hosts a wide range of events that will allow you to enjoy those magical summer evenings. For example, live concerts are held every Thursday evening on the Flamma Beach Foodhouse terrace.
What are you waiting for? INFINITUM Beach Club is only open during summer. Capacity is limited, so we recommend booking your ticket in advance. You can do so on this page.
Find us here
INFINITUM
Avda. Pla de Maset s/n.
43840 Salou
1.5 hrs from Barcelona - El Prat Airport
20 mins from the Camp de Tarragona AVE station
1.25 hrs from Barcelona on the C33/A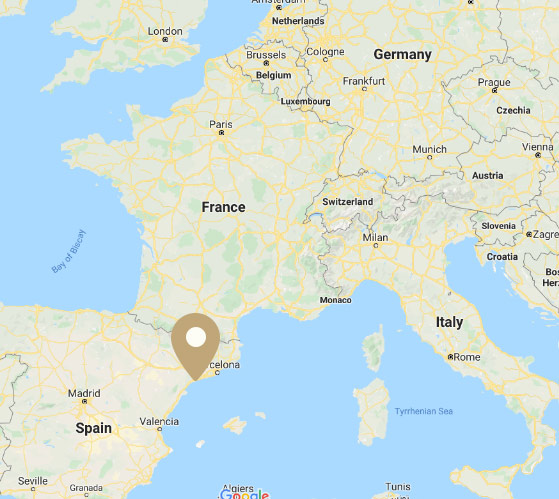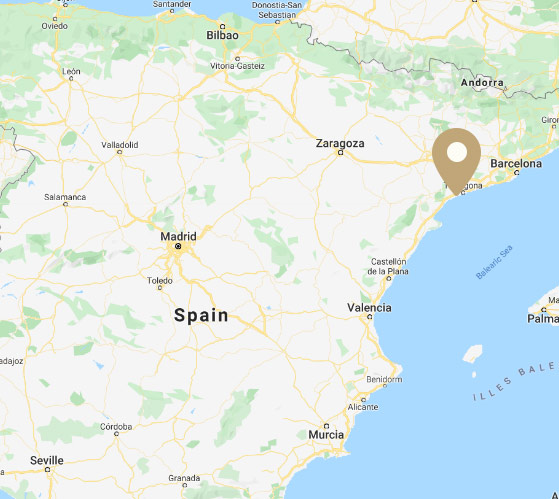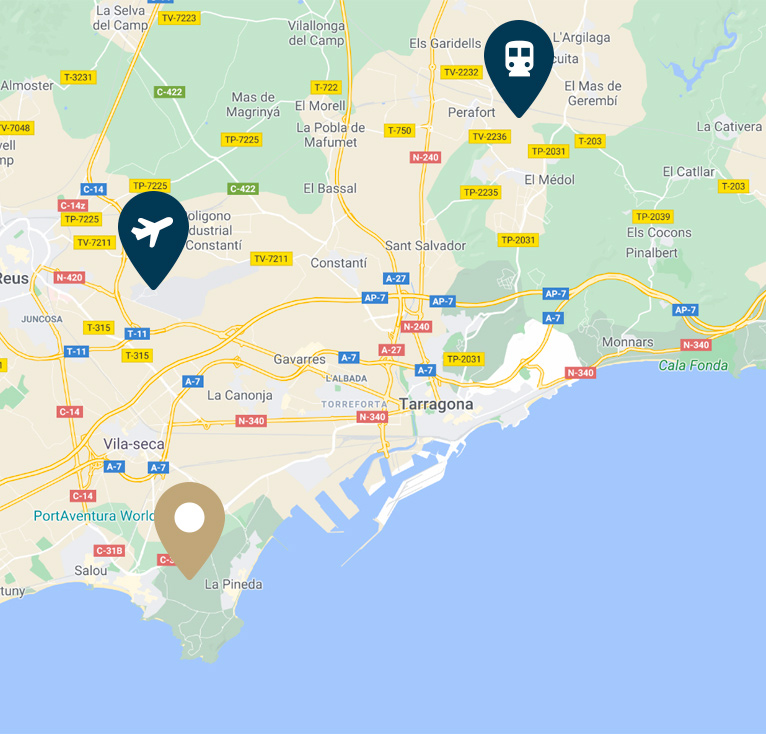 Contact
Enter your details to book a tour of INFINITUM. A residential advisor will be there just for you to help you discover the experience. We'd be glad to clear up any doubts or queries you have about the resort and its services.



You can fill out the form below or call us on
+34 977 12 90 70.